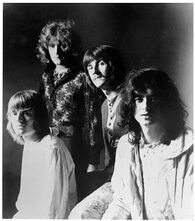 The members of Led Zeppelin all came from England, being an English band of course. Ater establishing a set of members, who all had grown to become great friends and family, they rocked the world. After the horrible loss of one member, the band slowly began to break apart as they tried to replace the drummer.
Ad blocker interference detected!
Wikia is a free-to-use site that makes money from advertising. We have a modified experience for viewers using ad blockers

Wikia is not accessible if you've made further modifications. Remove the custom ad blocker rule(s) and the page will load as expected.